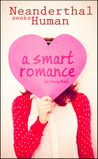 Neanderthal Seeks Human by Penny Reid
My rating: 4 of 5 stars
4 " Janie and Quinn 4evah" stars
Penny Reid is the author I have always dreamed about.
the one that I know I would be if I ever became talented over night and wrote a novel.
but alas that will never happen so thank the book gods that I have her.
but for serious..she writes the books that imagine in my head I would write.
with quirky adorkable heriones and alpha males…ughghg shes my spirit animal and I love her
I know Im gushing but just listen shes my other half.
she knits (Just like me!)
she writes awesome..shes a nerd what more could I want from an author..
she also gave me Martin Sandeke…and now Quinn..so basically I owe her my arm.
but this book was adorable. Janie reminded me so much of myself that it freaked me out.
with her knowledge of trivial things (which is a bizare trait of mine..I always know weird things no one else does and I blather them out when im uncomfterable or bored because i hate social situations.)
im always labeling things and categorizing people/things just like Janie…but not in a judgmental way I promise…so, in short, reading this was surreal because it was me lol
Quinn was awesome but I did feel that he wasn't as dimensional as Janie if that makes sense..he seems so monotone and stoic…i couldnt picture him right…
but the whole knitting group omg I WANT THAT
as soon as I read that i started searching for ones near me because I don't know anyone else who knits besides me and their whole relationship made me long for one of my own..the whole concept is awesome and cute and so unlike anything else thats in other books out there.
Let me talk about Chicago for a second…(another weird affinity I have for this book)
I've always wanted to move there…seriously my friends always tease me about it cuz I talk about it so much so reading this book that was set there with a girl that was like my spirit animal….lets just say I was weird-ed out and excited.
I loved the epilogue in Quinn's POv!!!! it really was able to show another side of him that isn't clear in Janie's POV and im exited to read the next one 1.5 all about them getting engaged and married
Thank you Penny Reid; soul sister
Chicago, knitting, books, love,