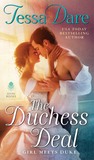 The Duchess Deal by Tessa Dare
My rating: 4 of 5 stars
So let me tell you about this magical book I read……………………
Guys this book is such a magical delight! It's the perfect historical romance comfort read. Especially since its Tessa Dare and she always has this harmonious blend of heart clenching romantic, laugh out loud funny and quirky freshness.
The Duchess Deal is about a scarred, broody duke who, after a broken engagement, literally marries the first women he sees! (Yes, I know perfect premise)

"Your Grace, I regret the interruption, but there's a young woman to see you. She's wearing a wedding gown."

……and Emma Gladstone, the unassuming seamstress with a bone to pick with the Duke, becomes his duchess.
He has rules, and so does she and herein starts the story of how they break their rules and fall in love.
The Duke of Ashbury was so broody and I ate it up. He was a lovable curmudgeon who fights his path the love every step of the way. He was scarred horribly in his face during war and isn't out in society because of it. But he has such a good heart! He's fiercely loyal to his staff and to Emma<3 he's also fucking hilarious! He has such a sharp wit; some of the things he said had me in stitches!
"There" He stood back, chest heaving with exertion. "I made you a fire. You may now admire my manliness."
"I do rather."
The whole dynamic between them is so swoony! And not only them but the staff in the house all conspiring to get them together was so adorable!
Oh Emma, I fell in love with her. Mostly with the way she loved Ash (double swoon) she brought out the best in Ash, it was lovely to see. She is so caring and gentle but at the same time incredibly strong she is by far one of my favorite Tessa Dare heroines.
The plot went along smoothly I loved how Emma found her little niche with a group of quirky women just like herself (groups of quirky women seem to be a TD trademark) I'm looking forward to reading more about them
Also! Slight spoiler I think…my favorite scene was with Emma and her friends in the bookstore and that mysterious gentleman comes along asking Penelope for book recs! And they switch books! And we don't even know how name!!! way to string me along Tessa!!! Omg that scene!!!
This book is classic Tessa Dare magic with all the best troupes I highly recommend this book if you want a swoony time.